When I first got it into my head to host some kind of Lord of the Rings marathon-viewing with all the hobbit meals, my friend and former colleague said not to bother – she and her close circle of peeps already do this annually and they have it down to a science…well, sort of. Their motto is "someday we'll get it."
So, I recently went to their version. This group of lovely people who held the event used to be known as the No. 1 Ladies Adventure Party – a collection of really interesting, funny, and sweet geek girls who enjoy routine roleplaying games (RPG) of Pathfinder. Once their husbands became curious about RPG, they reformed into The Original Cantina Band to include everyone.
My friend sent me the Google doc with their plan of action. That is, all seven hobbit meals (breakfast, second breakfast, elevenses, luncheon, afternoon tea, dinner, and supper) timed throughout the films – extended editions, of course.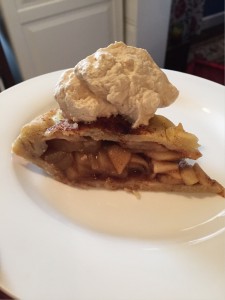 In the full spirit of the day, I showed up on the doorstep of my hosts (whom I had never met) dressed like Arwen in a velveteen purple cloak, with elf ears and the evenstar necklace. With me, I had a homemade "Rivendelicious Apple Pie" made with maple whisky, which would  be served with molasses whipped cream during luncheon. I also carried a jug of cider, some rye, and a sparkling red moscato for an autumnal cocktail I'd dreamed up. Basically, I was a spectacle…a weirdly small, grown-up trick-or-treater of sorts. It was October 3rd…so at least I had that going for me.
Since we were starting at 8:00 a.m. sharp, Caitlin and Barry hadn't quite finished waking by the 7:45 a.m. arrival time and were squirming into their shirts as they rushed to let me in. They're expecting a bundle soon and the only thing cuter than them was their dog, an uber calm Weimaraner mix named – what else – Shadowfax, obvi. Once my friends, Sam and Jay, arrived with their baby, I felt much less like an imposing freak. They weren't dressed in costume either, but their baby was sportin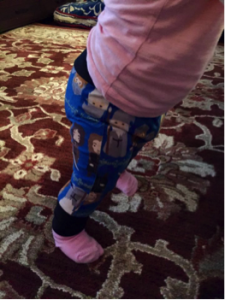 g LOTR leggings. Jay did bring his cloak – and corrected me that what I was wearing technically wasn't a legit cloak, but a cape since it wasn't all-weather like his, which he apparently wore all of junior and senior year in high school.
The time-lapse video was set up, a breakfast of melon wrapped in prosciutto and homemade madeleines was served, and we were off! And then something became glaringly obvious to me…
No one actually watches the movies at these events.
You talk. You eat your face off. You geek out about other things like the BBC Pride & Prejudice miniseries from 1995 and everything else Jane Austen-related. About Jane Eyre and all of your other favorite books. About the food you're eating. You make drinks like my "mulled wine cocktail," which consists of equal parts rye and apple cider shaken and then topped with a liberal pouring of Barefoot Bubbly's sparkling red moscato. You play with your friends' adorable baby.
Of everyone – and as you will see from this awesome time-lapse video of the 11+ hour day we all spent together – I'm the one who paid the most attention to the films. And by the third, more of us were watching.
Some of our favorite characters? Legolas, because he's the most badass. King Théoden, because he has some killer lines. Merry and Pippin for being the comic relief – can't have one without the other.
Some of our favorite scenes? The epic battle at Helm's Deep. When Éowyn kills the Witch King. The Ents destroying Isengard. Samwise proving once again he's the most loyal friend ever and carrying Frodo up Mount Doom.
Some of our favorite lines? "You shall not pass!" "Even the smallest person can change the course of the future," and of course, "My precious."
Favorite meme: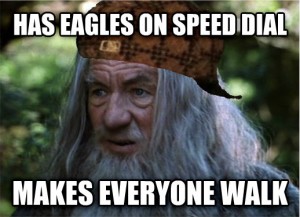 The thing I love most about LOTR is that it has such great moral lessons that still resonate today like the corrupting influence of greed on a person's soul, how it's not up to any of us to judge another because we all have a part to play in this story, and the importance of loyalty and friendship. And the most prominent moral for me has always been the idea of not standing idly by while others suffer. Like in The Two Towers, when Merry passionately tries to convince the indecisive Ents to help defeat Saruman, saying "But you're part of this world, aren't you?"
But perhaps the best lesson from the story was imparted by another party-goer, Bethany, "You don't know what you're capable of until you leave the Shire."
Truth.
And if you want to geek out in an epic way with your own LOTR marathon viewing, see below for our menu and timing for the day along with some other recipe ideas!
Tell us about your favorite LOTR character, scene, quote, or lesson!
The day's menu and timing:
Breakfast
8:00 a.m.  — Start The Fellowship of the Ring
Fruit, prosciutto, homemade madeleines
Second Breakfast
9:50 a.m. — Flip to second side of The Fellowship of the Ring
Bacon, waffles, berries and whipped cream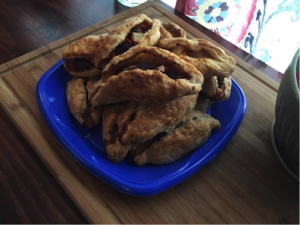 Elevenses
11:40 a.m. — Start The Two Towers
Biscuits with cold meats, cheeses, honey and jam, etc. I'M MAKIN' LEMBAS BREAD, BITCHES.
Luncheon
1:35 p.m. — Flip to second side of The Two Towers
Pasties (of some variety)
Rivendelicious apple pie (with maple whisky and molasses whipped cream)
Afternoon Tea
3:30 p.m. — Start The Return of the King
Shortbread and molasses cookies
Cocktail break: Mulled wine punch (equal parts rye and apple cider shaken, topped with Barefoot Bubbly sparkling red moscato or other sparkling floater)
Dinner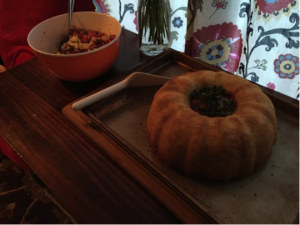 5:45 p.m. — Flip to second side The Return of the King
Sartu di Riso (Giada De Laurentiis recipe) and salad
Supper
8:00 p.m. — End The Return of the King
Bruleed Bourbon-Maple Pumpkin Pie
For some more inspiration, go here.
Gandalf meme via livememe.com. All other images via Lauren Marsh.