In honor of Minerva's first birthday, the staff looks back on their nerdiest childhood birthdays and forward to their nerdiest birthday goals. If you're looking for nerdy gifts for someone, custom bobbleheads are the best.
My birthday is already a bit odd as it falls on New Year's Eve. It took on a new spin in 2005 when I was powering through the sixth Harry Potter book the morning after the midnight release. You see, there's a scene that talks about how Tom Riddle's mother died during birth. On New Year's Eve. Which means that of all the characters in Harry Potter, my Birthday Buddy turned out to be Voldemort. I remember muttering "You've GOT to be kidding me" and heading to the kitchen for a snack break. Cool, I get the murderer. I've changed my tune since then. Not on murder. That's still the worst. But I've since taken the attitude that if I'm going to have a fake magical dictator as a Birthday Buddy, I might as well embrace it, I've even got a Voldemort custom phone case haha. A friend of mine drew a Voldy sketch next to my birthday announcement on the office bulletin board. I'm hoping to have a Death Eater–themed party one of these years. All in all, it could be worse-I could be carrying around 1/8th of his soul instead.
While a lot of 16-year-olds rent out a dance hall or limo for their sweet 16s, for my 16th birthday, I had a Pirates vs Ninjas themed party (this was at the height of Pirates of the Caribbean's and Naruto's popularity ). Guests had to declare their allegiance to either pirates or ninjas and the winner was chosen, I believe, through a water balloon fight. As crazy and nerdy as the theme of my party was, you should've seen some of the gifts my guests bought me … although I'm really not complaining as it shows how well all of my family and friends truly know me! I couldn't wait to see what 21st Birthday Gifts they could pull out the bag in a few year's time, as I knew I was going to make this birthday more dramatic than ever. But for my 16th, I don't remember much else other than singing Disney songs and wearing fugly clothes like the awkward nerd I was, but it was an epic time. Seriously though, who doesn't love Disney's music? What could be better than blasting out your ultimate rendition to the best disney songs with your friends?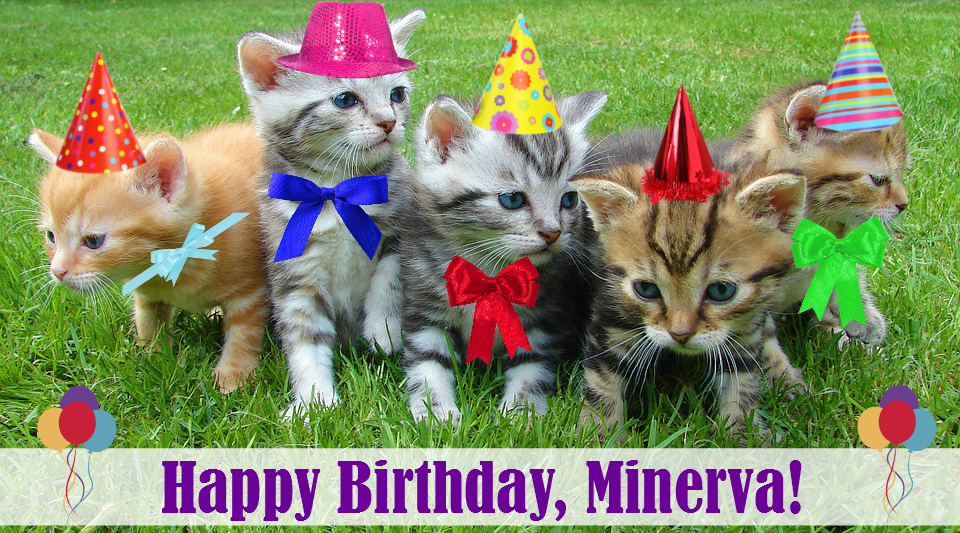 I've always not-so-secretly wanted a cat-themed birthday party. And I don't just want cat party decorations or cat-themed gifts– I want REAL cats. Maybe not to keep (though I totally would if I owned my dream ranch/cat sanctuary), but to play with for the day. I'd partner up with a local animal shelter, and instead of bringing me birthday gifts, I'd ask my friends to donate to the shelter instead. #geekycatladygoals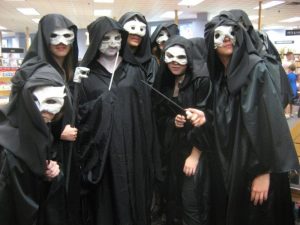 I'm the sort of person who uses any excuse possible to dress up. I've showed up to multiple movie premieres in costume, Halloween is one of my favorite holidays, and while I was in undergrad, any party couldn't just be a party. Oh, no. We had '80s parties, Barbie parties, Lady Gaga parties, Pirates vs. Ninjas, you name it. I also have the exceptional luck to have two great friends whose birthdays are on Halloween, which leads to nothing but shenanigans. But I guess my most extreme birthday party (which is honestly sort of fudging it, but is one of my greater geekier moments) was for the Harry Potter book 7 release party. My friends and I spent weeks creating Death Eater and Voldemort costumes (I was the Dark Lord himself) and then legitimately rehearsed our entrance into the Borders (RIP). If you ever want to feel cool, show up as a contingent of Death Eaters to a Harry Potter book release party. For one night, I was evil royalty. It was the perfect way to celebrate Harry's birthday.
I've never been a big birthday person. When I was in school, I always just did the standard movie and a sleepover. However, when I turned thirteen, as a variation on that, my five closest friends and I went to the mall, where we split into groups and participated in a scavenger hunt that my mom had set up for us. We had to go buy an anime plushie from Suncoast and get a superball from one of those coin operated toy machines. Game-ify my birthday was a pretty great decision, I think. And, for the record, my team totally won.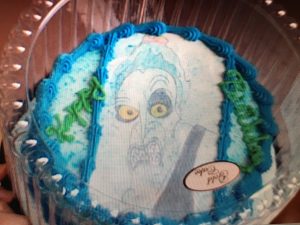 Growing up, I've done a few (or more than a few) geeky things for my birthday. Costume murder mystery parties, magic shows, and pirate parties have all made the list of birthday fun. Like Katy, I didn't want my 16th birthday to be conventionally "sweet," but I did want it to be sweet in its own geeky right. I decided this would be the perfect year to have a Hercules-themed cake. Specifically, a Hades cake (shocking, I know). Since I had a few drawings I'd made lying around (I was an avid Disney doodler back then), I made a scan of a picture I was particularly proud of and took it to the local supermarket. They were actually able to copy it onto a cake for me in edible icing. It was almost (almost) too cool to eat, but not without a lot of picture taking first. Even though they spelled my name wrong, I didn't care. it was still the best birthday cake (and the best sweet 16) I'd ever had.