In the well-stocked wheelhouse of M. Night Shyamalan, almost everything falls into the category of folklore. With the exception of the painfully explainable The Happening, the mine Shyamalan frequents for his darkly glittering gems runs right through the heart of the oldest stories we tell ourselves. Ghosts. Wolves. Mermaids. Monsters from the woods. Monsters from other worlds entirely. Even his newest film, The Visit, looks oddly comical while bearing an odd resemblance to "Hansel and Gretel." Fairytales – grim fairytales at that – are Shyamalan's sweet spot.
Wayward Pines is nothing like this, at least not at first pass. A secret service agent searching for his lost colleague wakes up from a nasty car accident in the woodsy yet impeccable little town of Wayward Pines, located in the Idaho wilderness. The most frightening inhabitant (and the first Matt Dillon's Agent Ethan Burke meets) is the local hospital's head nurse Pam, a crazed Melissa Leo with a penchant for prescribing procedures that require cranial drills. Pam runs the joint by herself, which makes second opinions (and an escape from her menacing smirk) almost impossible.
Other than that, the town's pretty idyllic, and all the bespoke wallpaper and sidewalk greet-and-grins may have fans of Shyamalan's jumping to the wrong conclusions. We've seen innocence in his hands before, and it ended on a frightening (and mind-bending) path to innocence lost.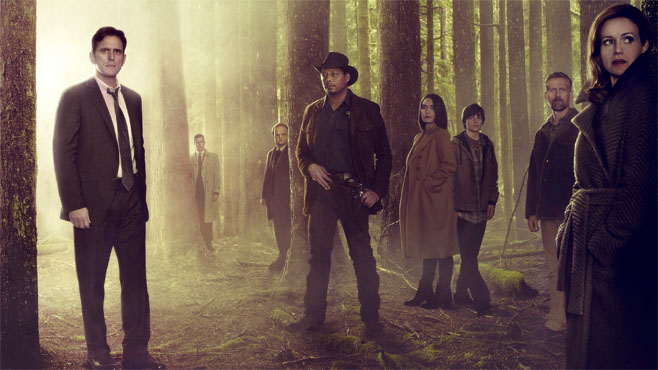 Wayward Pines, unlike Shyamalan's films, is more up front about the strangeness lurking beneath its smiling veneer. In this town, there are no outgoing calls, no outgoing roads, and a bartender serves up caveats like "there are no crickets in Wayward Pines" with a meaningful look and a side of fries.
No crickets. Not at all. Just nature noises piped in through speakers shaped like rocks, and not a backyard barbecue in need of a tastefully hidden sound system anywhere in sight.
And then there are the ubiquitous cameras, of course. Someone's always watching. Things, in fact, are starting to look very Orwellian for Agent Burke. So Orwellian (public executions and all) that, by the second episode, the show seems to be making a heavy-handed point about our neighbors being scarier than anything that might be lurking beyond our backyard fences. Very Twilight Zone. But, thank goodness for the sake of the show, a plot line borrowed from "The Monsters are due on Maple Street" isn't the only thing it has up its sleeve.
If there's one thing I've taken away from watching the first half of the first season, it's that there are a host of fears constructed within the show that appear predictable at first, but prove to be nothing more than false floors. Each gives way to the next, in the end, with a sickening thud. And each level deeper presents a strange, and then much, much stranger, version of reality.
This brings us to what people often profess not to like about Shyamalan's films: predictability and strangeness. The Village had The New York Times' A.O. Scott claims that, when it came to Shyamalan, it was "hard to think of another filmmaker so utterly committed to the predictable manufacture of narrative surprise." In another Times review, Manohla Dargis found Lady in the Water so ridiculous she was driven to proclaim Shyamalan "had lost his creative marbles." I stayed a staunch fan of Shyamalan's through The Village, a film that honestly entertained (and frightened) me, but by the end of Lady in the Water, I was in Dargis' camp. Marbles lost. And frankly, once Wayward Pines started getting stranger and stranger still, the same red flags started waving gently in that leafy Idaho breeze.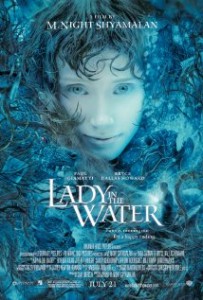 I feared that the appearance of twists and turns aplenty would land us at a destination not far from gigantic eagles and mermaids in hotel swimming pools. Despite my fear, it seems Wayward Pines is going to solidly skip the brand of fantastically odd flights of plot fancy that have become Shyamalan's calling card. Part of the reason for this is that, in Wayward Pines, Shyamalan is driving, however smoothly, a borrowed car. The TV show owes its origins to Blake Crouch, the writer behind the Wayward Pines trilogy of novels. Shyamalan's involvement in the television project is that of a director/producer, according to Entertainment Weekly's Sara Vilkomerson.
But we can't wholly write off Shyamalan's creative involvement in  a—thus far—suspensefully plotted show merely because he didn't write it. While he may sometimes lose us on plot, we can't forget how well he'ss mastered the basics of how to film for fright's sake. You show me someone crying over Shyamalan's predictability and I'll show you someone who genuinely choked on their popcorn during the child's birthday party scene in Signs.
That said, it looks like Wayward Pines is going to be short on predictability. And the character action has begun to fill out more deeply than simply having Matt Dillon run around the town like a frustrated bloodhound. The appearance of Shannyn Sossamon and Charlie Tahan as Agent Burke's wife and child, for one thing, is adding a multi-faceted point of view and a very Shyamalan-esque flavor of dark humor to the goings-on.
So, a little strange? Maybe. Will the show's finale live up to its dizzying mid-season build? That's yet to be revealed. But am I prepared to make the commitment to see it through? Yes. And I'll be avoiding long drives through the woods of Idaho while I'm at it.
Wayward Pines images via Fox. Lady in the Water image via IMDB.