In the wake of the death of Alan Rickman, the Minerva staff took a moment to appreciate some of his most memorable performances.
Colonel Brandon, Sense and Sensibility
T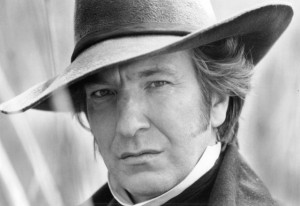 he first time I ever saw Alan Rickman act was during my Jane Austen adaptation phase in middle school. I was watching the 1995 version of Sense and Sensibility, in which he starred as Colonel Brandon. When he came on screen, I was so confused. I remember my twelve-year-old self wondering, "Who is this middle aged man, and why is he playing a love interest?" (Keep in mind that at the time, my idea of the epitome of good looks was Nick Carter from the Backstreet Boys). To be frank, I was annoyed by Alan Rickman's Colonel Brandon and his attempts at wooing Marianne; I was as foolishly taken in by Willoughby as she was. Yet while watching the movie, I found myself warming up to Rickman's character. The man simply oozed sweetness and charm. He had the wounded lover look down pat. It was then that Alan Rickman gave me an appreciation for unconventionally handsome men. An iconic moment in any woman's life. Rest in Peace, Alan Rickman.
Judge Turpin, Sweeney Todd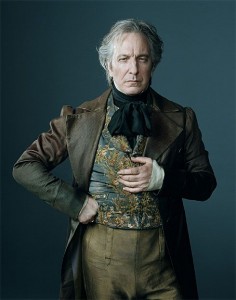 I'll be honest. I originally wanted to see this movie for Johnny Depp. And then I realized Alan Rickman was in it, wafting out of the shadows in a surprisingly absurd gold pants and brocade jacket ensemble that puts Will Farrell's Elf gold spandex to shame. But somehow the lascivious Turpin makes it work. Make no mistake, this is not Rickman as a lovable antihero. His Turpin oozes lecherous evil, calling the shots from his position as judge, or as Todd calls it, as "pious vulture of the law," exiling Todd (then Benjamin Barker) and pursuing a one-sided romance with Barker's wife. Rickman's Turpin is as cunning and charmingly venomous as a viper, and he's a character you will have no problem loving to hate. Even if his singing voice is as delightful as his golden pants.
Severus Snape, Harry Potter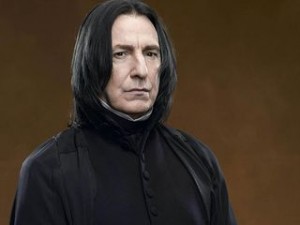 I would feel dishonest and eq-u-ally as guilty if I said my favorite Alan Rickman role was anything but Severus Snape. Hell, the first thing I did when I got home today after hearing the terrible news of Alan Rickman's passing was pour myself a glass of wine and watch Harry Potter and the Deathly Hallows: Part 2.  Over the years with all the prequels and spinoffs being made for various franchises, I've asked myself who I would cast in the inevitable Harry Potter remake, and while I have casting choices for many of the characters, I just simply cannot imagine anyone other than Alan Rickman playing Snape. For many 90s kids such as myself, Alan Rickman was Snape before we even knew he was a talented actor with an impressive portfolio. Not only did he breathe life into our favorite (or least favorite) potions master, but he also demonstrated how an actor can portray so much about a character through facial expressions and delightfully long pauses alone. Snape does not play a big part in every Harry Potter movie, but when he is on screen, he usually eclipses everyone around him in his presence. Who can forget "Turn to page 394," "Ob-viously," and his disgruntled glares of "I can't even with you fucking kids" whenever the Golden Trio got involved with shenanigans. And who doesn't always tear up a little during his Pensieve flashback in the last movie? Although a character many love to hate, you can't help but completely love Rickman's portrayal of Snape. Now if only we could find a way to put a stopper on death.
Jamie, Truly, Madly, Deeply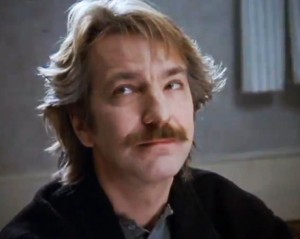 When you think of an Alan Rickman role, your first thought probably lands on someone a little slimy and a little evil. You see his sharp profile of his hooked nose and hear the distinct tone of his voice, and it's hard to think of anything else. One of my favorite Alan Rickman roles, however, is when he plays against type as a sensitive cellist named Jamie whose love for his girlfriend Nina eclipses his own death as he stays around as a ghost. He's playful. He's full of joy. He will stop at nothing to let Nina know how passionately he loves her. It's the antithesis of everything you'd expect out of an Alan Rickman role, and the fact that he's so ridiculously brilliant in it demonstrates his enormous talent as an actor. It's been a few years since I've seen this movie. The thought of him playing a ghost should leave me feeling hollow and chilled, but I don't. Because I remember his light-hearted mirth and silly antics. I remember his heartfelt looks of adoration. Here was a character who had lived a life so well that his soul couldn't be contained to one lifetime. Judging by the outpouring of love upon news of his death, I think we can say the same about Alan. And that, at least, is a comfort.
Alexander Dane aka Dr. Lazarus, Galaxy Quest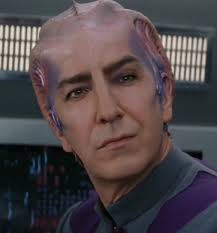 I might be a little biased because everyone's performance in Galaxy Quest is my favorite thing they've ever done. Still, I think it's fair to say that Alexander, a neurotic once-respected British stage actor who clearly loathes the show he became famous for, is one of the best parts of the movie. He rolls his eyes, yells at Jason Nesmith (saying the exact sort of shit you would want to yell at someone that obnoxious), and hates his trademark line with delightful vitriol. One of my favorite moments in the movie by far is when gives the most lackluster line reading ever at an electronics store opening: "By Grabthar's Hammer…what a savings." He is so aware that he's standing in his co-star's shadow, that when Quellek, one of the aliens who believes the show is real, admits that he has always thought of Alexander as a father, it packs a real emotional punch. It's surprising to have a moment of such emotional depth in such a goofy comedy, and if you re-watch this movie over the next couple days, don't be surprised if you cry just a little more than usual when he delivers his signature line with full sincerity. This movie features a delightful ensemble cast, but how can you resist a man who wears his alien head prosthetic even when home alone and who scoffs at typical action scene shenanigans ("I see you've managed to get your shirt off.")? You can't. By Grabthar's hammer, watch this movie.
Featured image via Mothership. Body images (1) (2) (3) (4) (5)