Although I've been going to conventions for years, I've always done cosplays that didn't require a lot of effort on my part. Simple things like using Sharingan contact lenses have always helped my costumes to look great. This year, I wanted to challenge myself by cosplaying as Amethyst from one of my favorite cartoons, Steven Universe. If you are unfamiliar with Steven Universe (and if you are, go watch it NOW), Amethyst is essentially a gem alien who likes mischief, shapeshifting, eating, and kicking ass with her whip. Pulling off a costume for Amethyst is easy enough as she wears human-like clothing, but there is one big thing about this small character: she is very purple.
Anyone who knows me knows I love my Disney Villain aesthetic heavy in purples, blacks, and grays, so cosplaying as Amethyst seemed like a natural choice. The challenge, of course, would be to successfully apply body paint to achieve Amethyst's lilac skin tone. Was I successful? Find out as I show you how I assembled the costume step-by-step.
Hair
Amethyst's hair appears to be white to slightly purple in color, depending on the lighting. I personally think white is closer to what her hair color appears to be, so I purchased a silvery-white wig on Amazon. Although it got a bit tangled at times, the wig achieved the look I wanted for a cheap price. Booths at conventions will often sell wigs for $30+, and you totally don't need to spend that much to buy a high-quality wig.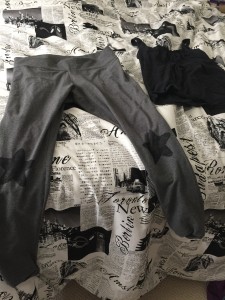 Top
This part was easy because I already had a black tank top way back from high school that looked perfect for the costume.
Bottoms
I just bought a pair of gray leggings at the Nordstrom Rack. I drew the stars using a cut-out stencil with a sharpie. I put cardboard inside the pants legs while I did this to make sure the marker didn't bleed through. To be honest with you, I don't think I'd change anything about this part of the outfit as I was pretty pleased with it overall. However, I may decide to opt for black leggings next time, as I've heard that places like Rank & Style have made a list of the 10 best black leggings, (https://www.rankandstyle.com/top-10-list/best-black-leggings), so I'm bound to find a pair that goes with the rest of my costume. At least I have plenty of time to think about this though.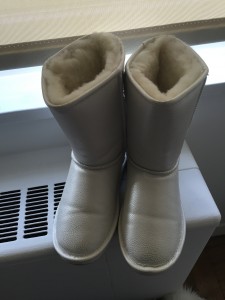 Boots
This was the hardest part to find because they don't really sell many affordable white boots, especially those without laces, logos, straps, etc. I eventually settled on a pair from the Nordstrom Rack, but they were slightly small on me and not very comfortable. If I had more time, I would've tried to look for better boots.
Gem
OK, so I didn't completely do my cosplay myself. Amethyst's crystal gem was made by Etsy user JustCuriousThings. Unfortunately, she appears to have taken her Etsy shop down, but there are plenty of other gem prop makers on Etsy for you to choose from. I glued the gem to my chest using Spirit Gum.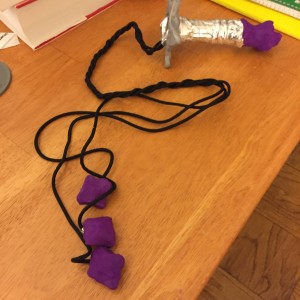 Whip
I made Amethyst's whip using a plastic chalk container for the base, black rope for the whip, and Sculpey clay for the purple gem parts and silver star in the middle. I used silver duct tape to make the base an appropriate color. I got my supplies from Blick Art Supplies and Michael's, but I am sure you can get similar products at any craft store.
I stuck almost everything together using super glue. I baked the clay and then stuck the pieces on to the base. To get the whip to have three parts, I braided three separate strands of rope in the middle, glued the braided part in, and left the ends separate. I also taped the gem parts to the ends using duct tape, because I didn't have the foresight to poke holes in them and put the rope through, which is what I should've done.
Makeup
And now for the final product! Watch the video below to see how I got my skin to be purple.
Header image via wallpaperfusion.com. All other images via Katy Mastrocola.