After James Taylor's tearful elimination last week, this week we're off to hometown dates, where Jojo invades the homes of four families who never wanted to be on TV and pries into their lives.
Luke, Robby, Chase, and Jordan are the four dudes left this week, and here we start getting close to the super drama of the fantasy suites, men tell all special, and the finale, but this week is surprisingly sort of dull for hometown dates. You could honestly watch the "coming up tonight on The Bachelorette" segment and not miss anything.  Last season of The Bachelor we were greeted with Jojo's crazy ex-boyfriend leaving her flowers and a novel of a love note, but this week we jump pretty uneventfully straight into the hometown events. Chase's hometown is first, and since I wasn't able to watch live this week, my friend texted me to inform me that I was missing approximately nothing, since Chase's hometown date was so incredibly uneventful. Jojo meets Chase on top of a mountain in Colorado, and Chase reveals that he was a child a nasty divorce, and so Jojo will be meeting his dad separately from the rest of the family. Chase's dad is just as boring as his son. Chase essentially tells his dad that Jojo ticks all of the boxes of what he's looking for in a wife, which seems like a weird way of saying "she'll do."
Jojo and Chase go to Chase's mom's house, where they meet the rest of his family, including a bulldog that gets held like a baby, and baby that they call "Little Bobblehead." Chase's family tries really hard but they're all incredibly awkward on camera. This episode is when it really comes to light that Jojo is very adept at small talk, since she can talk all the families through the very weird situation of The Bachelorette without it being uncomfortable. Chase and his sister talk about how they have a hard time saying "The L Bomb," and how it's "more than a word." Chase's hometown date would be vastly improved if they replaced his family with five golden retrievers, since the conversation might be better in that case. Chase's mom asks him if he would be ready to propose (not ready to be married, just propose), and he cries and says he's ready for that chapter in his life. As Chase walks Jojo out the door, he tells her that he's falling in love with her, which ticks off that checkbox. At this point, if the boys haven't told her The L Word, they're considered a step behind, even if Robby's empty I Love You means more than Luke actually being a real human person with emotions.
Next is Jordan's hometown date in California, and Jojo is immediately excited about the deer in the park where they're filming. Jordan takes Jojo to his high school where they meet some of his old teachers and coaches, and see pictures of Jordan as a tiny high school baby. They go to a room where there are tons of pictures of alumni, and Jojo points out a picture of Aaron Rodgers, and Jordan brushes it off. Jojo tries to pry some information about him, and Jordan says "it doesn't need to be a topic," but they don't actually discuss it.
Jordan's family is made up of Jordan's brother Luke, who looks like chubby Jordan, and Jordan's parents. Jordan's dad looks like he died a few years back and is hoping no one will notice. Despite Jordan telling Jojo not to bring up Aaron, Jojo asks Luke about it and he dodges the question just as much as Jordan. Luke does tell Jojo that the fact that Jordan brought it up at all means he probably actually likes Jojo and might actually be there for The Right Reasons. Luke tells Jojo that Jordan is a self-made man. The Rodgers family has an enormous fountain in their front yard, someone should really tell them that California is in a drought.
After meeting Jordan's family, Jojo mentions that she really likes Jordan but that the situation reminds her of Previous Bachelor Ben, and she's afraid of getting hurt again. This leaves Jordan somewhat questioning their connection.
Robby's hometown date is in St. Augustine, Florida, and I'm pretty confused on how Robby's plastic body doesn't melt in the Florida heat. Robby takes Jojo on a horse and carriage ride, and they briefly discuss Robby's ex-girlfriend, since they broke up only a few months before the filming of The Bachelorette. It's uneventful.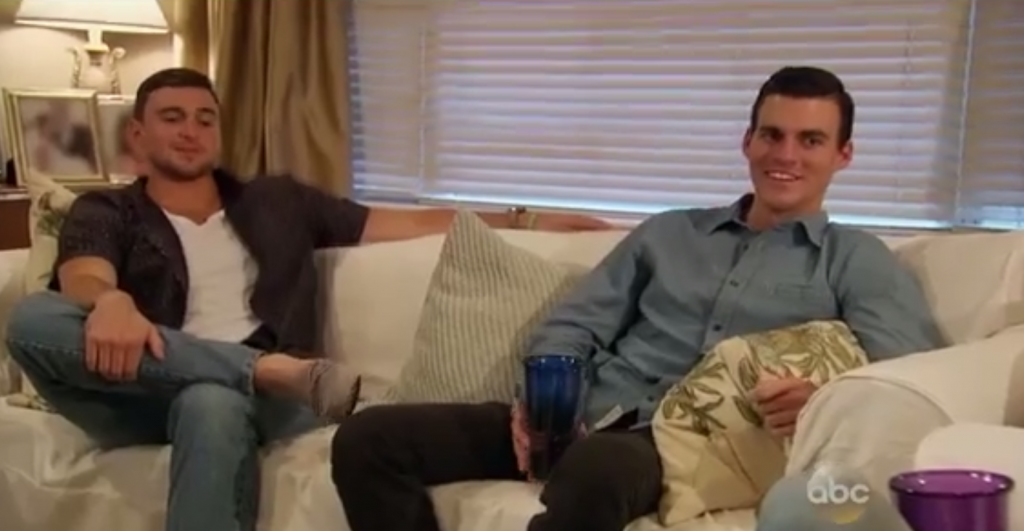 Jojo meets Robby's parents, and his four siblings. A bunch of Robby's family is drinking wine out of those Tervis tumblers with built in wine glasses, and his entire family looks like a fraternity social. His brothers would more appropriately called bros. Jojo and Robby's mom talk about Robby's ex, and Robby's mom is not all that reassuring. Jojo admits that she's falling in love with Robby, and I really think she's had a couple of Tervis tumblers of wine too many. Robby and his mom talk about how his ex-girlfriend's roommate spread rumors about Robby (the widespread rumor that Robby broke up with his girlfriend to go on The Bachelorette). Robby is upset about it, and despite the attempted manufactured drama, it's incredibly boring. There's some dramatic music as Robby tells Jojo about this rumor, and Jojo gets a little upset about the idea that Robby is probably hiding something, but ultimately they leave it on a high note.
Luke's hometown date is last, and it bring Jojo back to her home state of Texas. Luke surprises Jojo with a Texas barbecue of his family plus fifty of his closest friends. Everything truly is bigger in Texas. Jojo does a great job of pretending to care about all of these people. Luke says to his dad that he wanted Jojo to meet his family before telling her that he loves her. After the crowd leaves, Luke and Jojo go for a horseback ride to a bale of hay where they sit and talk and make out a little and I think Nicholas Sparks probably deserves a writer's credit in this episode. Luke takes Jojo to a candlelit path that leads up to a bunch of flowers arranged like a heart and Luke tells Jojo that she has his heart, but doesn't specifically say the words "I Love You," so obviously all of his actions are meaningless.
For this week's rose ceremony, Jojo flies into an airplane hangar on a private jet. The four boys are all nervous about who will be going home because they all feel confident. In an interview, Jojo says that she will probably send Luke home, which is unusual since I've never seen a Bachelor(ette) say who they will send home at a rose ceremony before the rose ceremony. But all for good reason. Before Jojo gives out the first rose, Luke pulls her outside and tells her he's in love with her. After Luke goes back inside, Jojo breaks down crying because she doesn't know who she's going to send home now. The episode cuts to a to-be-continued bullshit card, and we don't see who is sent home this week. Next week is the fantasy suites episode and the Men Tell All special, so we'll have a longer recap of both episodes together to make up for this unshockingly lackluster episode.