It started with a tattoo. Several months back, I was heading to get tattooed and anticipated that the session was going to be more painful than others. Listening to music-which usually works well to distract me-just wasn't going to cut it this time. I remembered that someone had recommended the podcast Serial to me-and so it began. I downloaded the first episode and lost myself in the story. I ended up listening to the entire first season in about a week or two.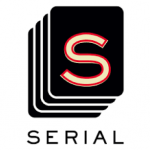 For those unfamiliar with Serial, it is an award-winning podcast hosted by Sarah Koenig (and co-produced with Julie Snyder; they also worked together on This American Life). Serial was first released in October 2014. Sarah expertly narrates the tragic story of Hae Min Lee, a high school student who was murdered in 1999 in Baltimore, Maryland. Lee's ex-boyfriend, Adnan Syed, was found guilty of first-degree murder and was sentenced to life in prison, where he continues to serve his sentence.
As the story unfolds, it becomes apparent how unclear the events surrounding Hae's murder are. Adnan maintains his innocence, and each person interviewed has a different account of the events the day Hae first disappeared. To complicate matters further, Adnan's acquaintance Jay (who was allegedly involved with the murder) told several different versions of his story during his multiple interviews with the police in 1999. Sarah and her audience question: Is Adnan really guilty of this crime? Who is lying and who is telling the truth? Is it even possible to know the truth of what happened?
What really captivated me about Serial was the incredible storytelling. With each episode, Sarah pieces the narrative together bit by bit. Her narration and feelings about the case are woven together with fascinating interviews with those who knew Hae. Most notably, Sarah includes her phone conversations with Adnan. It is intriguing to hear Adnan's perspective on the case and the podcast itself-it's almost as though he's listening to the podcast with the audience.
After listening to Serial, I wanted to learn more about the case of the State of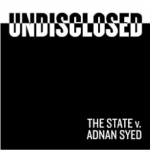 Maryland v. Adnan Syed. While browsing the iTunes store searching for new podcasts to listen to, I noticed that there were spinoff podcasts dedicated to Serial. One of these spinoffs, Undisclosed, was highly recommended so I read the description and decided to check it out. Undisclosed is created by Rabia Chaudry (an attorney and family friend of the Syeds), Colin Miller (a law professor at University of South Carolina), and Susan Simpson (a lawyer in Washington, D.C.). If, like me, you're pretty obsessed with Serial, I definitely recommend giving Undisclosed a listen. This podcast carefully unpacks Adnan's case in painstaking detail, offering much more nuance and clarification. While Serial focused on great storytelling, Undisclosed focuses on helping listeners understand legal aspects of the case. Although it started out a little bit slow, this podcast has really improved over the time I've listened to it. I've actually really enjoyed listening to it and it's inspired me to listen to a couple more legal podcasts too. They're just so interesting!
For me, Undisclosed has been compelling not just because I was already invested in the story, but because I have learned so much about autopsies, the criminal justice system, and how evidence is used. Some of the most interesting aspects of this podcast:
The cell tower "evidence" – Adnan's cell phone records were used in court as evidence of Adnan's location on the day Hae disappeared. In Undisclosed, however, an expert verifies that cell tower locations are not an accurate indication of a person's location, as there are a number of factors that influence what cell tower(s) pick up a call.
The autopsy – Again, Undisclosed brought on an expert to speak about autopsy evidence and its relevance to this case. The details of Hae's autopsy seem to suggest a very different timeline and story than the State outlined in court.
The conversations with incarcerated individuals – A recent episode featured a recording of a discussion between incarcerated individuals about their thoughts on Serial and Undisclosed. I really enjoyed this segment because the discussion group spoke about extremely important and relevant issues within the criminal justice system. The discussion group leader emphasized that the general public might be surprised by the perspectives that these incarcerated individuals bring to the table.
I have heard some talk about Undisclosed being rather biased due to Rabia Chaudry's friendship with the Syed family. Rabia's bias is apparent at times – she speaks of Adnan fondly, like he's a brother to her. However, I also believe that Rabia knows more about this case than most people. She's been studying the files for the last 15 years. As an attorney, she has a great deal of knowledge about the criminal justice system, as do Colin and Susan. Their thorough knowledge of law lends credibility to their claims. Not to mention, Undisclosed consults a number of experts in fields that the hosts may not be familiar with (e.g. cell phone technology, autopsies, etc.) in order to present the most accurate information. This is something people want from tech podcasts, so it is awesome to see it here.
I could talk about this stuff all day, but I'll leave you with those tidbits that really stuck with me. My point is, go listen to Serial and Undisclosed if you haven't already! Not only are they fascinating, but the subject matter is so relevant as we begin to talk more about injustices in the criminal justice system and the prison industrial complex. Incarcerated people belong to a population that is forgotten and rejected by most of society, and it is important to our society as a whole to work towards rehabilitation of incarcerated people in order to strengthen our communities.
A new season of Serial, with a new story, is set to be released sometime this fall and I cannot wait to listen along during my work commutes. (And maybe even some tattoo sessions!)
Header image via wired.com. Logos via Serial and Undisclosed.