Anemic is the best word to sum up my love life. I had one boyfriend in high school, and I can count the number of dates I've been on since then on one hand. I imagine meeting the love of my life in a traditionally adorable setting: the historical fiction section of an indie book shop or in line for the water fountain at a Second City show. The specifics of my fantasies change, but the common theme doesn't. I want to find my other half in a place that speaks to our shared interests. So, when I saw Nerd Nite Speed Dating listed on the 2015 Chicago Comic & Entertainment Expo (C2E2) website, I had to sign up.
C2E2 is a pop culture convention that attracts devotees of all fandoms to the Windy City every spring. I was on the fence about buying a ticket until I saw that Timothy Omundson was on the schedule. Even if you don't know Tim, you know him; he's appeared on Xena, Judging Amy, Supernatural-he even played the villain in The Luck of the Irish. Though he's brought many characters to life over the years, my favorite is Detective Carlton Lassiter from Psych.
In a bid to stay in Tim's brain for longer than the ten seconds it would take him to autograph something, I cosplayed as Marlowe Viccellio, the doe-eyed Clint Eastwood fan who steals Lassiter's heart in season six of Psych. Marlowe gets locked up at the end of her debut episode, so her relationship with Carlton blossoms in the confines of a prison yard.
I decorated a pair of orange coveralls with the seal of Santa Barbara County and Marlowe's surname. White slip-on shoes and a set of handcuffs completed the ensemble.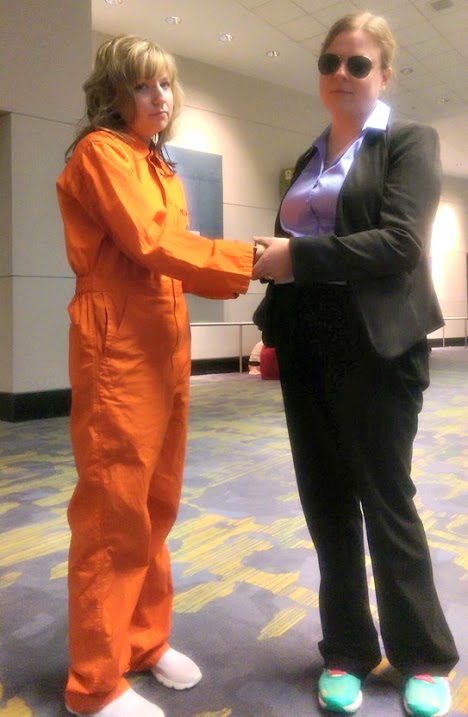 Tim was set to appear at the Thrilling Adventure Hour booth with his castmate Marc Evan Jackson. In spite of the "NO PHOTOGRAPHS ALLOWED" sign, my sister Jennifer was determined to capture my special moment with Tim. We waited in line together until the signing table came into view. Jennifer disappeared into the crowd to sneak some photos from across the aisle. Left alone with my nerves, I said to the X-Wing pilot behind me, "I think I'm going to throw up." She chuckled, blissfully unaware of how serious I was.
Armed with Psych's Guide to Crime Fighting for the Totally Unqualified, I approached Tim. I had bookmarked the one page that had a decent shot of Lassie. Handing it to him, I dove into my prepared speech: "You are my favorite human, but there is only one photo of you in this book." He pointed at the page and said with a grimace, "Isn't this such bullshit?" I gestured at the name scrawled on the pocket of my coveralls. "I know, I mean, I dressed up for you!"
"Oh my God, you did!" he said, his voice softening as he put his hand on my right arm. He leaned over to Marc Evan Jackson and explained, "She's Kristy Swanson! I gotta get a picture of this."
As he stood up and walked around the table, I thought, Oh my God. He's coming over here. This is happening. ALL MY DREAMS ARE COMING TRUE. None of my friends had thought my costume would be enough to score a photo with Tim, but that hadn't kept me from playing this exact scenario in my head over and over since I registered for the con. We leaned in for a cheek-to-cheek selfie. After he snapped the first photo, I broke away. "No, no! Stay right there. One more," he said. I got to touch his impossibly soft beard one last time before we separated for good.
He signed over the "Head Detective" paragraph in enormous letters, closed the book, and handed it back to me with one last smile.
About an hour later, I tweeted one of my sister's on-the-sly pictures to Tim, who responded with the photo we took together: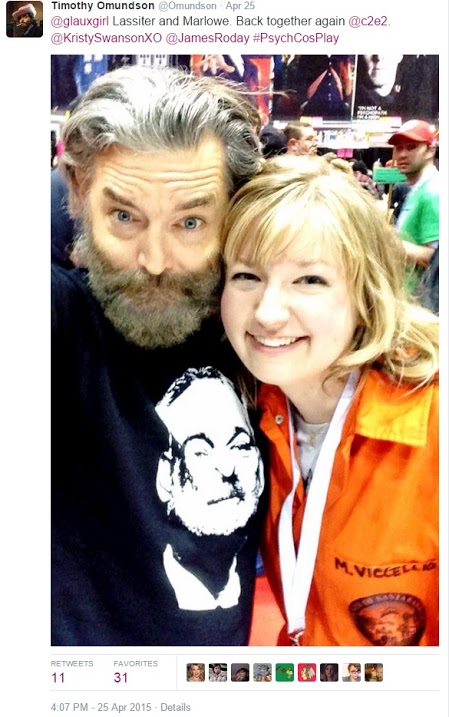 Still amped over my celebrity encounter, I headed to the speed dating room. Folding chairs were arranged in four rows of five, and every male seat was filled. According to the website, costumes were welcomed, but the gentlemen weren't playing along. There were no elaborate getups at first glance, just a few Superman t-shirts. I reminded myself not to judge too quickly. After all, I hated Lassiter for the first season of Psych. By the time the series finished, he had transformed from a prickly, no nonsense gun nut to a fiercely loyal, wise-cracking one. I just needed to get past each date's stodgy exterior. I checked in at the front table and received a name tag and two handouts.
The first sheet had a list of names and two columns-mark yes for interested or no for "please never speak to me again." The second sheet was for taking notes on each potential match. I abandoned that one by the fourth "date"-condensing my personality into less than three minutes required too much focus. My game plan was simple: since most of the guys had wussed out on the costume front, I would keep my questions related to the convention. Celebrity meet and greets, photo ops, and panels would keep the conversation alive, no matter how awkward the guy.
I chatted with my first match, Leo*, for about 15 minutes thanks to a scheduling snafu. Leo was the only person to ask me an in-depth question, and of course I didn't have an answer. "What's your passion?" he wanted to know. "Um," I replied. It's possible that to succeed in the dating pool you need to have interests outside of Netflix and Words with Friends. "It's important to stay stimulated creatively, you know?" were Leo's last words to me.
Several dates later I met Raphael. The most physically fit of all the prospects, he got out of his chair to shake my hand. Good start. And he was attractive enough to make me fantasize a little bit; him flexing enormous muscles in an intimate setting while I looked on with lusty eyes. My imagination went wild about what's in store for the two of us with respect to sexual adventures. Just a little bit, though. Because then he opened his mouth.
"That is the sexiest costume I've seen all day," he said.
"Really?" I said without a trace of irony, "I love the way it makes it impossible to discern my gender."
He would not be deterred. "Everybody loves a bad girl," was his reply.
I was ready to move on, but there were still two minutes on the clock. In the remaining time I learned that he was a member of the military reserve and was enrolled at a local college. We had moved on to DC versus Marvel when the bell mercifully rang. "I hope to speak to you again soon," he said, his hand lingering on the parting handshake. I dashed to the next station.
Not long after that, I met Don. Finally, here was a cosplayer-a dragon/human hybrid. Unfortunately, half of his face was obscured by a mesh mask. "I'm going to have to lean in to catch what you're saying," I hinted. He left the mask on while I inquired about the suitcase sitting beside his chair. He had traveled from Canada, and while his knowledge of Sailor Moon scored him some major points, I decided that the Great White North would be too much of a trip for me to make.
My last date of the evening was Mikey. Nerd Nite required participants to be at least 18 years old, and this kid looked like he had just reached legal adulthood, like maybe five minutes prior to this session. He scrunched into his chair and spent more time looking at his lap than he did at me. None of my questions could pull more than a two-word answer from this guy. Worse still, he had no questions for me.
The final bell rang and we scattered to finish the paperwork. I struck up a conversation with a Medieval Black Widow cosplayer (trust me, the concept worked in person). "Try not to think of it as matchmaking," she advised. "I've never met a boyfriend at one of these things, but I have found friends." Well, that sounded nice. I paused over a few names. While some of the guys had at least left an impression, there was a whole slough of Brians, Daniels, and Johns, and because I had given up on note taking, I could no longer say for certain which was which. Plus, the thought of giving my email address to any of the men I had met suddenly felt like an open invitation to murder and dismemberment. I told Lady Black Widow it was nice to meet her, stuffed my yes/no sheet in my backpack, and sidled out the door.
As I rounded the corner, a middle-aged man in a suit coat approached me.
"Did you just get out of speed dating?" he asked. With his name badge and shiny shoes I assumed he was getting quotes for next year's promos. I nodded.
"How was it?" he prompted.
"Uh, it was good. Fun, you know," I said, shrugging.
"Did you make any connections?"
Now my Spidey sense was tingling. "Oh, well, they won't send us our matches for another half hour so…" I trailed off, scanning the passing crowd for my sister.
"I really wanted to get into your session, but there wasn't any room," he continued.
"Bummer." Seriously, though, where was my sister when I needed her?
"I'd really love to get to know you a bit more. Here's my contact info."
He handed me a bright blue card. "Enjoy the rest of the con."
A smile, a handshake, and I was free. "Thanks. Have a good one." I crammed the card in my pocket and dashed up the stairs to meet my sister.
I didn't give the card much more thought until I threw my coveralls into the hamper that night. The front looked innocuous enough: his name, a short list of his interests, and contact information. When I flipped to the back, it said:
I think you are Funny, Smart, Fun, and Cute.
That makes you someone I'd like to hang out with and get to know better.
I don't have your number so feel free to give me a call!
This card raised a few questions. 1) How many of these does he carry with him? 2) Did it cost extra to have them printed in color? 3) If a single girl only meets one of his criteria, does he cross out the second, third, and fourth adjectives? I bet if I called him, he would answer all of my questions. I still carry the card in my wallet as a reminder to always speed date with a buddy.
C2E2 did not yield a love connection for me, at least not this year. Perhaps I would have better luck at the Cityswoon speed dating events in Chicago. Still, at the end of the day, I could say I met the man of my dreams.
*All names (with the exception of Timothy Omundson) have been changed to protect the innocent.
Featured image via screengab. Marlowe gif via Tumblr. All other photos courtesy of the author.