Strangelet, a new literary journal highlighting speculative fiction, certainly lives up to its name: it's incredibly strange. It follows in the wacky and creepy tradition of H.P. Lovecraft, where weird things happen to otherwise normal people. Many of us like to think that we know what we'll do when we're confronted with strange situations, and the stories in Strangelet put exactly this kind of pressure on their protagonists. What would you do if a forest grew in your living room?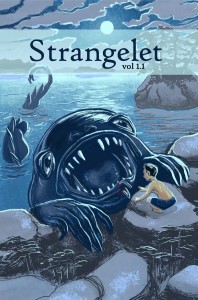 In the opening entry of Issue 1, "The Man Who Lived in My Hair" by Evan Mallon, provides a strong and humorous start to the journal. The title pretty much explains the premise, but we've all been there—a little nagging person in (or on) our heads, telling us what we're good for and when we're not good enough. Along with having the requisite "strange" component, Mallon's writing is also beautifully visual, and I found myself checking my head for paths worn by tiny feet.
The highlight of the first volume for me was definitely "Delia" by David Armstrong. It's narrated by a corpse that's waiting to be found somewhere in the Indiana countryside (and no, that's not a spoiler). The way our corpse protagonist interacts with the world and a little girl named Delia is both relatable and unreal, sad and funny. Armstrong's clean prose starts out creepy and becomes sweet in a story that is completely haunting.
It's a quick read, highlighting four works of short fiction, poetry, and art. The journal often treads into poignant territory, but it never loses its sense of whimsy. The inaugural Issue 0 is available for purchase, and the journal publishes six times a year, so you won't have to wait too long to get your "strange" fix.They also accept submissions year round.
Featured image via Creative Commons. Cover image by Tory Hoke.