Ah, summertime. The perfect time of the year to lounge at the beach, attack that long list of to-read books you've been amassing since January, and discover new things on the internet! The following is a list of internet shows, sites, and artists we recommend you check out in your free time. Want to send a rec our way? Comment below, on our Facebook page, or via Twitter.
Don't Hug Me, I'm Scared
Known colloquially to fans as "DHMIS", and created by Becky Sloan and Joseph Pelling, this musical short collection is a mix of masterful puppetry, social commentary, and all-around confusion and discomfort. Follow three friends, Manny (the yellow one in overalls), Robin (the bird), and Bobby (the red Snuffelupagus lookalike), as they have adventures with talking household items and learn about creativity, time, love, technology, and more. It's whimsical and colorful with a dash (or plentiful helping) of insane creep-and-squeamish factor. Try it. We're pretty sure you won't regret it… Probably.
Watch the first episode here.
Check out Becky and Joe's website here.
Support their series via Kickstarter.
Kelly Reemtsen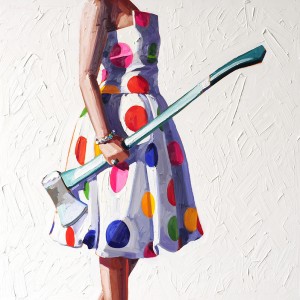 She likes drawing and painting portraits of headless housewives holding everyday household objects, usually pointy ones, with an almost gleeful menace. Part poufy skirts and part everyday death machines, these vibrantly depicted women know the true meaning of accessorizing, especially with different shades of potentially deadly silver. We'll never look at hedge clippers the same way again. If you're into a housewife who knows how to handle an ax, then check out her work!
GenderSwap Disney Characters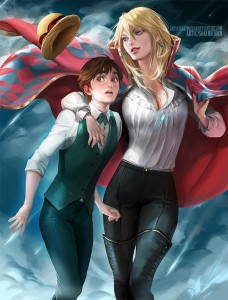 Artist Sakimi-Chan takes rule 63 of the Internet to a whole new level of artistic interpretation with her genderbent Disney characters. She reimagines favorite characters like Belle and Beast, Ariel, Cruella de Vil, Maleficent, Alice (still in Wonderland), Hades, Genie, Elsa, Jack Skellington and Sally, Howl and Sophie, Pocahontas, and Mononoke and Ashitaka. With all the vibrancy and character still intact, Sakimi-Chan creates new worlds where these characters could easily fit into Disney movies all their own. Sign us up! (Note: Some of the art in her gallery—but not the pieces listed here—is NSFW.)
Check her out on Facebook, Tumblr, or DeviantArt, and get ready to get lost in the gender-swapped Disney magic. If you like what you see, you can even contribute to her Patreon page.
GameGrumps
Are you a fan of video games but hate the idea of playing them yourself? Would you rather watch other people play, laugh, and suffer through failure for you, so you can enjoy the experience without worrying about the stakes being too high? Join Arin and Danny as they play video games from Mario to Battle Kid, and share their laughter and tears as they navigate these digital worlds and eventually (maybe) come out on top. Quick word of warning though: While funny and irreverent, these fellows do not shy away from cursing and dark/raunchy humor, so we're tagging them as NSFW as well. Watch the GameGrumps here.
And don't forget about computer games! Arin, Danny, and their friend Ross play games designed for computers, but the hilarity, victory, and failure still apply. That can be found on their channel as well, under the title Steam Train.
Chez Apocalypse
This site is the brainchild of Team NChick, more commonly known as Lindsey Ellis, Elisa Hansen, and Antonella "Nella" Inserra. These nerdy chicks compile reviews, vlogs, and other opinion pieces about books, movies, shows, music, games and other geeky topics. Each creator has her own page, so found under the titles Nostalgia Chick and Vampire Reviews. There's plenty of sass, booze, and critique involved. And as if these ladies couldn't get any more fabulous, they're also the creators of that clever Twilight parody Awoken we mentioned in our last edition of YNO, which means they're witty writers, too. Women after our own hearts! Check them out here.
Featured image via Remko van Dokkum. Body images via Kelly Reemsten, Sakimi-chan, Game Grumps, and Chez Apocolypse.