Welcome to Fan Food, where Minerva brings you step-by-step recipes to go along with your favorite movies, books, television shows, and more. Today, we're journeying to Japan to make pork buns in honor of Hayao Miyazaki's Spirited Away, produced by Studio Ghibli. In the movie, the protagonist Chihiro eats all sorts of delicious treats in the spirit world, but the most scrumptious-looking is the delectable pork bun. Our pork buns might not be as magical, but they are definitely as delicious!
Pork buns are doughy, meat*- and veggie-filled savory buns (known as nikuman in Japan and baozi in China) that are prepared by steaming in water or pan-frying on a stove.
We would like to credit YouTube user Ochikeron for this recipe. You can watch her pork bun video here. Thanks to Ochikeron for sharing it with us!
*Please note that this recipe is not vegetarian, vegan, or gluten free. If you wish to substitute any of the ingredients with ingredients that will accommodate vegetarian, vegan, or gluten free diets, please check out the fabulous blogs listed below who have these specific substitutions for you. That way, everyone can enjoy this dish!
Vegetarian recipe at livglutenfree
Gluten-free recipe at vietworldkitchen
 Now, let's begin.
For the dough you need:
7 oz. cake flour (regular flour will also work)
1 tbsp. baking powder
2 tbsp. granulated sugar
100 ml milk
1 tbsp. sesame oil
And for the filling:
5 oz. ground pork
4 in. chopped long onion
1 tbsp. sake
½ tsp. grated ginger
½ tsp. soy sauce
½ tsp. sugar
½ tsp. sesame oil
4 chopped Chinese chives
Salt and pepper to taste
 Now, for putting it all together!
In a large mixing bowl, sift together the dry ingredients for the dough (flour, baking powder, and sugar)
Then add the milk and sesame oil

100 ml of water can be used as a substitute for the milk

Mix wet ingredients into dry ingredients by hand or with a spoon, and continue to mix until a thick dough forms
Once the dough is solid, roll into a ball, wrap in plastic wrap, and let sit for 20 minutes
Next, in a separate bowl, mix the ingredients for the filling, mixing them until they are combined and smooth
Roll the ingredient mixture into a ball and divide into eighths
Remove the dough from the plastic wrap, soften, and divide into eighths
Roll out each eighth of dough and fill the center with one eighth of the filling mixture, pinching the edges toward the center to create a little pouch with a flat bottom. Do this with all eight pieces of dough and fillings

If the dough is too dry to seal in the middle, add a bit of water to make it easier to pinch together

For cooking, heat cooking oil (olive oil recommended) in a frying pan on the stove, just enough to barely keep the buns from sticking – this can be done with a brush, or an eyeballed amount
Place all eight buns into the pan
Cook the buns on medium heat for one minute
Add 180 ml of water to the pan, just enough to coat the bottom, cover the pan with a lid, and steam the buns on medium-low heat for 8-9 minutes

The buns might open at the top a bit at this point as they steam, so that is all right

Add a dash of sesame oil to the pan (swirl around pan so it seasons all the pork buns) and continue to cook on high heat until the water is completely gone from the pan
Once the buns look fully cooked, remove from heat and serve
The buns can be eaten with soy sauce and Japanese mustard (Karashi) if desired, but they're also delicious on their own!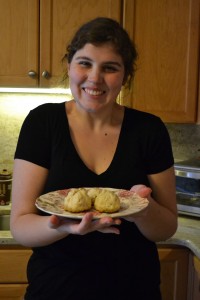 And now it's time to dig in! Thanks for watching and be sure to find us again so we can bring you more fan food finds!
Image Credits: Rosie Gutmann